| | |
| --- | --- |
| Herzliya Tourism Sites | |
The city Herzliya is located in the central of Israel, on the Israeli coastal plain of the Mediterranean Sea and uses as one of the major cultural and tourism centers of Israel. In Herzliya you can find archeological sites from the past alongside developed and advanced sites, which means that the new is beside the old.
In Herzliya you can find for example the following sites:
---
Apollonia:
Apollonia is an ancient site and located on a rocky cliff overlooking the north beach of Herzliya. Apollonia in the Persian period was the initial settlement of the
Phoenicians. The name of Apollonia was "Aarshup" as the name of the Phoenician Reshef. Apollonia during the Byzantine period were abundant life. There were shopping centers, industrial center of the region of Sharon. Later it was captured by the Crusaders and then by the Muslims led by the Mamluk Sultan 'Eviibiers". Apollonia was destroyed by him to the ground and since then was left the place as a ruin.
The site is open to visitors and uses as central historical archeological site in the Sharon region.
Tel: 09-9550929 09-9550929.
Telephone information service of the National Parks Authority by phone 1800546666
Opening hours: April - September: 08:00 to 17:00 October - March: 08:00 to 16:00.
---
Sidney Ali Mosque: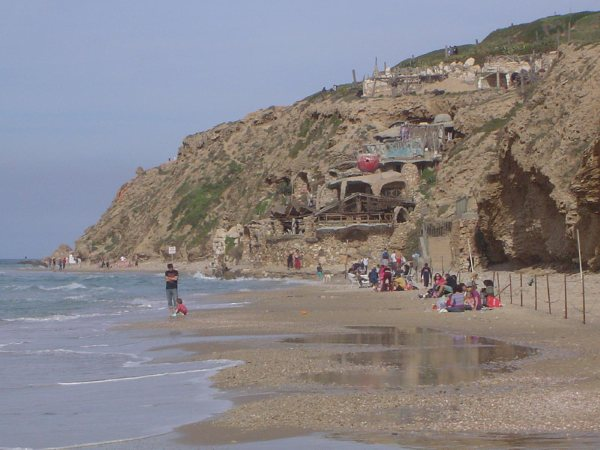 The Mosque rises above the cliff overlooking the Apollonia Beach. The mosque is the tomb and used for the Muslims as a prayer site since the 11th century. In the yard of the Mosque was buried the saintly Sultan Ibn Ali that considered one of the descendants of Muhammad's family.
According to tradition Ibn Ali did not want a roof over his grave, and has said that each roof that would build would collapse.
It should determine the hours of prayer in order not to disturb.
---
Herzliya Park:
Herzliya Park is a large green space which located in the central of Herzliya on the area that connects the East and West of Herzliya (near the Ayalon Highway). It covers 120
acres, including lawns, grill area, a natural amphitheater, lake, natural winter pond and designed games for toddlers and also play facilities for children.

The Park was placed on the preservation of existing natural values in the region, along with entertainment and encourages popular sports: pedestrian walkways, bicycle path in length of 1200 m that connects to the existing bike and run paths.
The park is located between the streets: Joseph Nevo in the east, Boulevard Ben - Zion Michaeli in south, Boulevard Ayalon-North in the West.
---
Museums
Herzliya Museum of Contemporary Art:
Herzliya Museum of Contemporary Art presents contemporary art from Israeli artists and international artists, with an emphasis on plastic arts. The museum is characterized by a dynamic conception of culture and art world today and gives a contemporary expression of a variety of painting, sculpture, video, photography and architecture.
Every Saturday at 12:00 there is a guided tour of museum exhibitions.
4 H'abanim Street, Herzliya,
Tel: 09-9551011 09-9551011 Fax: 09-9500043
Visiting hours: Sunday, Tuesday, Thursday - 16:00 to 20:00,
Monday, Wednesday, Friday and Saturday 10:00 to 14:00


foundation Herzliya Museum:
This museum is called also "Bet Rishonim" and presents the early days of Herzliya as a city. Around the museum there is a large garden, fruit trees and flowers. The museum is devoted entirely to the story of establishing of Herzliya from its earliest days and illustrates this by computerized means of light and sound. In the porch of the museum there is a sculpture of Dr. Theodor Herzl that reconstructed from the famous photograph of Herzl on the hotel's balcony in Basel.
8 H'nadive street, Herzliya, Tel: 09-9504270 09-9504270
Visiting hours: Monday, Tuesday, Wednesday, Thursday, 08:30 to 12:30, Monday 16:30 to 18:30


Artists Residence:
In the Artists Residence you can find a gallery of exhibitions from different artists that takes place each month. There are also culture events that combine interdisciplinary meeting of arts: plastic arts, music and literature.
7 Yodfat street, Tel: 09-9510601 09-9510601
Hotels In Herzliya Pituach :
Dan Acadia Hotel
Daniel Hotel
Sharon Hotel
Tadmor Hotel
Pituach Taxi - 052-9124076
Marina Taxi - 057-9366797
7 Stars Taxi - 09-9577770
Av-Yam Taxi - 057-6130997